The other day, I was invited to attend an event at Alabang together with other Southerner Bloggers (well most of).  The event was held and sponsored by Azumi Boutique Hotel at Alabang.
First we were treated to a delightful lunch at Cafe Romulo located at the ground floor of the Hotel.  This is also the restaurant that caters to all the clients who have checked in at the hotel but you can also visit them even though you are a walk-in customer.
Azumi Boutique Hotel at Alabang just opened last January 23, 2014. I am glad that they gave us a tour to see their rooms.
We first went to their Garden Room.  As an introductory price, they offer the Garden Room for only P3,800 nett.  This is what the corner room looks like:
Overnight stay includes daily breakfast, 2 bottled purified water (replenished daily), use of the infinity lap pool and wifi internet access.
Their rooms are good for 2 to 3 persons.
The only thing different with the King room compared to the Garden Room is the balcony.
This is my first time to see a see through CR 🙂
It is very liberated.  I think it is good for couples but not when you are with your family.  To be honest, I don't think I can stay in this kind of room with my son.
Their Queen Room is so affordable for P3,ooo nett.
The prices I have mentioned are valid only until April 2014.  That is their introductory price, so you better book now to avail of the discount.
We also went to the Roof deck where we saw the Infinity Pool and the Penthouse. I think the infinity pool is more attractive at night and not at daytime.  Also, it is too hot to stay during the day compared at night.
I love their penthouse. The CR is very spacious and even though the shower area is also made of glass and see through, there is a blind that you can put down if you want.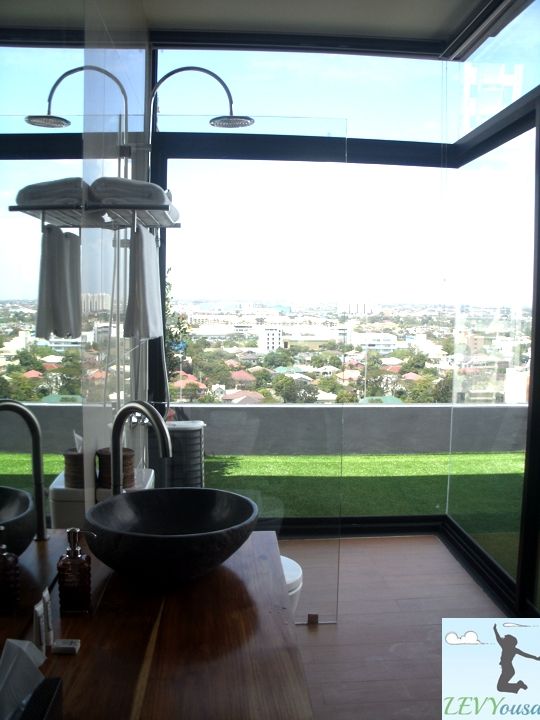 Here is the bed at the penthouse.  An overnight stay at the penthouse cost P15,000 per night.
Here is a video from PopTalk if you want to see more of the hotel's interior.
Azumi Boutique Hotel
2205 Market st., Madrigal Business Park, Phase III, Alabang
(02) 382 8964
reservations@azumi.ph
Website: http://www.azumi.ph/
Facebook: https://www.facebook.com/AzumiBoutiqueHotel
Similar Posts: